When you have bad credit but need to buy a vehicle, finding the right car dealer can be challenging. That's because obtaining auto financing through a traditional lender may not be realistic. Thankfully, there are special finance options available to help you get an auto loan.
Finding the Right Car Dealer for Your Situation
Credit problems make it hard to obtain a "standard" car loan from a traditional source like a bank or credit union. If that's the case for you, it might be time to explore special finance options.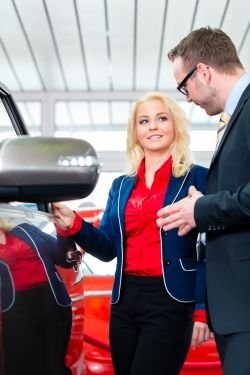 In-House Financing Dealers
Certain dealers don't care about your credit score and won't run a credit check when you apply with them. That's because they finance your loan in-house and treat your job (or income) as your credit. You may have heard of these types of lenders referred to as Buy Here Pay Here (BHPH) dealers. This is an attractive option for those with very damaged credit, but it's important to remember that some of these dealers will not be reporting your payments to the credit bureaus. This means that you may not be able to improve your credit situation with this type of car loan.
A Subprime or Bad Credit Auto Loan
There are certain dealerships that will accept your low credit score because they use third-party lenders that understand the subprime market. Typically, these loans have  higher interest rates and slightly shorter terms. The good news is that the majority of these lenders treat these subprime auto loans like credit-building tools. They allow credit-challenged customers to jumpstart the rebuilding process by reporting their payments.
How Do I Find Financing?
Trying to figure out which dealers offer in-house financing and which accommodate subprime lenders can take a lot of time and energy. Who wants to deal with that?
You won't have to if you turn to Drivers Lane. Our team has made it their mission to help bad credit car buyers find the auto financing that works best for them. We have a nationwide network of trustworthy bad credit auto dealers who are ready to help you.

Get Started Today
We here at Drivers Lane understand that credit problems shouldn't be the be-all and end-all. We'll make sure that those with bad credit who need a car have the opportunity to finance one, sometimes for little or no money down. If you are ready to get the car you need and start the credit rebuilding process, get started by filling out our easy and secure online application.