Buying a new car can be very exciting. And it can feel extremely satisfying to buy one with no money down. However, purchasing a car without a down payment can sometimes lead to negative equity, which can cause problems down the road.
When you have negative equity, it means that you owe more on the loan than what the vehicle is currently worth. And it's not an uncommon situation for a car buyer to be in, considering that brand new vehicles will typically lose around 20% of their value by the end of the first year of ownership. Negative equity can be a problem if you need to sell the vehicle before you've paid off the loan, because it means you will typically need to pay the difference between the remaining loan balance and what the car sells for.
If you're considering trading in the car, you might be able to roll the difference into your next car loan, depending on the amount you owe. However, keep in mind that this will not only increase your monthly payment, but also add to the interest charges of your new loan.
Staying On Top
In order to keep yourself from going "underwater" on your loan (another term for having negative equity) or having to get rid of a vehicle before the loan term is up, consider the following strategies: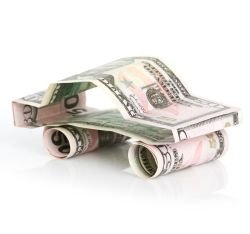 Provide a down payment.
If you are able to come up with 20% of the total vehicle value in cash or trade equity, you greatly reduce your chances of having negative equity in the vehicle.
Make sure you aren't stretching your budget.
Depending on your income and credit history, a brand new car may not be the right choice for you. Even though the car's price itself may fall in your budget, the interest rate may push the limits of what you can realistically afford. Instead, consider a late model used vehicle that will meet your immediate needs. This could help you prevent a situation in which you can no longer afford the vehicle and have to try and sell it before it's paid off.
Don't exceed a 48 month loan term.
Longer payment terms can be tempting because it lowers your monthly payment. But it also means that you will pay more in interest charges over the loan term, and it will be harder to break even if you decide to sell or trade it in.
Getting What You Need Now
If you need to purchase a new or used vehicle, Drivers Lane can help you. To get started, just fill out the easy and secure online application. From there, we will connect you with an auto dealer who can get you financed and back behind the wheel fast.