Filing for bankruptcy should be a last resort option. There's a lot to consider when filing, such as whether a Chapter 7 or Chapter 13 bankruptcy is right for you. But there are some important tips to follow before you get to that point.
Who Would Benefit from Bankruptcy?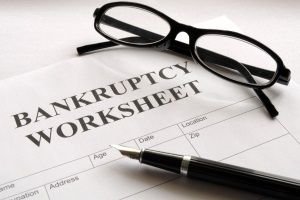 Bankruptcy isn't a good option for everyone. Before you consider filing, see if you can fix any financial issues before deciding to file. perhaps getting professional advice from a credit counselor can help. Depending on your situation, the American Bankruptcy Institute says the following people could benefit from bankruptcy:
People who have had their wages garnished.
People who have frozen bank accounts after judgment(s).
People who have a majority of their debt in unsecured loans (i.e. credit card bills).
People who have debt collection agencies calling them.
People who have lawsuits filed against them.
If you think you fall under one of these cases, bankruptcy could be right for you. It's a good idea to step back and look at the situation in detail before officially filing for bankruptcy.
Important Bankruptcy Tips
On top of evaluating whether or not you should file, there are some important tips to follow:
Look at your finances – Take a look at what initially caused the financial trouble. Make sure you know what your total debts, income, and expenses are.
Pull your credit reports – You are entitled to one free credit report from each of the three credit bureaus every 12 months. If you've already used your free one, there will be a small fee to pay for any additional credit report requests. When you get your report, double check for any errors and make sure all your creditors are listed.
Inform debt collectors and creditors – You must contact the debt collector once you decide to file for bankruptcy and provide information on the attorney handling the case and the district where you'll be filing. By law, debt collectors aren't allowed to contact you once the bankruptcy petition is filed.
Credit counseling certificate – It's required that before you file for bankruptcy, you must obtain a certificate of successful credit counseling. You have the option of going through credit counseling as early as six months before filing. It's not recommended that you wait until the last minute, so make sure this is done in a timely manner.
Get an attorney – It isn't recommended that you file for bankruptcy on your own. Bankruptcy laws can get complicated and confusing, and if you have any questions, your attorney can answer them for you.
Bottom Line
Filing for bankruptcy isn't an easy decision to make. Your finances and credit are important in today's society and determine a lot of things, such as whether or not you're able to take out an auto loan.
If you filed for bankruptcy and find yourself in need of a vehicle, Drivers Lane may be able to help. We specialize in helping people with credit issues – like bankruptcy – find dealers who work with lenders that offer special finance auto loans. Our service is free, fast, and doesn't put you under any obligation to buy. Get started right now by filling out our auto loan request form.