If you are college student, there is a good chance that you are on a fairly strict budget. So, if you need to buy a car, you will probably be looking for something affordable. Of course, you don't want a vehicle that breaks down frequently because auto repairs can quickly get expensive.
In looking for a car to buy, your goal should be to find a vehicle that is both inexpensive to purchase and reliable to drive. Luckily, there are a number of excellent used car options out there that match these requirements.
Top Vehicle Picks for College Drivers
Whether you need to get across campus quickly, have a job to go to or are a college student who commutes to class, these cars will fit both your needs and your price range. They are all highly rated and can usually be found for less than $15,000.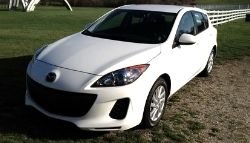 The 2012 Mazda Mazda3:
This little sedan/hatchback has received very good safety ratings and has been praised for its athletic handling and great fuel economy, especially with the base 2.0-liter Skyactiv engine. It doesn't offer a very spacious backseat (although the hatchback adds versatility), so the Mazda3 may not be the best option for you if you expect to have a lot of passengers, but you will love the elegantly designed cabin and the fact that this is a really fun car to drive.
The 2011 Honda CR-V (2012 model pictured):
If you enjoy spending time in the great outdoors, this compact SUV may be perfect for you. The CR-V offers 72.9 cubic feet of cargo space with the rear seats folded down, so you will have plenty of room to carry bikes, camping gear or picnic supplies. Speaking of picnics, the cargo floor pops out and doubles as a table. You just have to unfold the legs. You will also enjoy the elevated ride height and comfortable, high-quality interior.
The 2012 Scion tC:
With the Scion brand being retired, Toyota has recently re-branded this vehicle as a Toyota. And, yes, this Scion is a coupe with two doors, but it has a surprising amount of cargo space and legroom in the backseat. Even your tall friends should be able to tag along in relative comfort. Critics have noted that the tC offers smooth handling, agile steering and has an overall look that is "sporty" and appealing.
The 2011 Toyota Prius:
Whether you are an environmental science major or just love the earth, the distinctive styling of the Prius will tell the world that you're proud to be green. Obviously, this hybrid is extremely easy on gas. It has also been praised for its spacious interior and high safety scores. And if you like to have options, you will be pleased with the fact that the Prius comes with three driving modes to select from, allowing you to choose how much fuel you want to save.
The 2013 Kia Soul:
This adorable and diminutive hatchback will be easy to park in a crowded campus, and even the base model comes with an impressive list of standard features. And even though the Soul is small, test drivers have noted that it has "ample" head and legroom, as well as a decent amount of cargo space. Also, a 2013 model is likely to come with a portion of its generous Kia powertrain warranty still available, so you may not have to wreck your budget with a trip to the garage.
You should also know that when you finance a car, you will have the opportunity to start building a good credit score for all of your future big purchases. And if you are having trouble with auto loan approval due to a lack of credit, there is help available.
Financing for First Time Buyers
If you have little or no credit, it can be difficult to find auto financing. But Drivers Lane can connect you with a local dealer who is qualified to work with buyers who are either just starting out with credit or have damaged credit. You may even be able to buy your car with little or no money down.
Just fill out our simple and secure online application to get started today. We don't believe in wasting your time or your money, so our process is fast and our service is free. You have nothing to lose.