A recent survey from AAA has revealed why a lot of Americans don't have a regular auto repair shop. The reason is there seems to be a general lack of confidence among consumers where service centers are concerned.
It's important to have a regular place to take your car for maintenance and repairs. If a shop is familiar with your vehicle and its history, it will be a lot easier for them to spot and fix problems. This is why AAA has gathered the findings on why many U.S. drivers don't have confidence in repair shops. In the same report, they have also offered suggestions on how to find a trustworthy auto repair shop.
Why it's Hard for U.S. Consumers to Find a Trusted Auto Repair Shop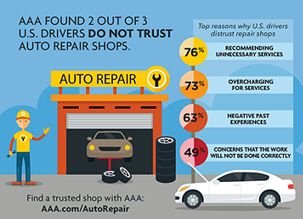 According to results from the AAA survey, approximately 75 million U.S. drivers haven't found an auto repair shop they trust. But the survey also reveals that 64% of respondents are pleased with their regular service center. So it seems that there are trustworthy auto repair shops out there. Why is it that 63% of U.S. drivers claim that they don't trust repair shops as a general rule?
Here's a breakdown of the reasons offered:
76% feel that auto repair shops routinely recommend unnecessary services.
73% believe that they are often overcharged for services.
63% report having had negative experiences with repair shops in the past.
49% expressed concern over work being done correctly.
It's interesting to note that older drivers seem much more likely than younger drivers to trust auto repair shops. Among the AAA survey participants, it appears that Baby Boomers are twice as likely as younger generations to trust service centers. In fact, one in five Boomers claim that they "totally trust" the industry.
Also, an impressive 76% of surveyed Boomers are likely to have a shop that they routinely use. Whereas only 56% of Gen-Xers and 55% of Millennials report that they have a regular service center.
Luckily, if you are one of the individuals who is having a difficult time finding a trustworthy auto repair shop, AAA has some recommendations.
How to Find a Trustworthy Repair Shop
Again, it's a good idea to find a repair shop that you can trust before there are any major issues with your vehicle. Here are some tips from AAA on how to locate a trustworthy service center.
Ask friends and family members where they take their cars and if they've been pleased with the service they've received. It's also a good idea to do some research on your own. Find out how long local repair shops have been in business. You can also look at their online customer reviews and their Better Business Bureau ratings.
Look for a facility that has received an AAA Approved Auto Repair certification. To earn this status, auto repair shops must maintain customer satisfaction ratings of at least 90%. These businesses are also inspected quarterly by AAA representatives. To find an AAA Approved Auto Repair shop near you, visit AAA.com.
Do a test run. Once you've found a shop that seems trustworthy, schedule an appointment for a minor service. You can pick something like an oil change or a tire rotation. This will give you an opportunity to talk to employees at the shop while you're waiting. You can also inspect the shop's overall appearance, technician credentials and price lists.
If you do find an auto repair shop that you're happy with, it's a good idea to continue using them. This way, all of your service records will be in one place and the technicians can get to know your car.
Trustworthy Bad Credit Auto Loan Assistance
If it's time to buy your next car or your very first one and you have bad credit or no credit, Drivers Lane can help. We can match you with a dealership in your area that can work with your situation. You'll get a better chance at auto loan approval. And you may even be able to purchase your vehicle with little or no money down.
It costs nothing to apply with us and our service comes with no obligations. Go ahead and fill out our simple and secure online application to get started today.