Recently, Kelley Blue Book (KBB.com) announced the winners of their 2017 5-Year Cost to Own Awards. Vehicles and brands honored with this award are able to provide buyers with five years of inexpensive and worry-free car ownership.
Factors that matter when 5-Year Cost to Own Awards are handed out include financing, insurance rates, anticipated fuel costs and expenses related to maintenance and repairs. KBB evaluates and selects new winners every year. They do this to help car shoppers make informed choices when picking vehicles to buy.
5-Year Cost to Own Award-Winning Brands
The two brands that were honored this year for producing vehicles that offer tons of value over the long haul were Acura and Subaru. Acura won for Best Luxury Brand. And, for the second year in a row, Subaru took the top place for Best Brand.
On how Subaru was able to earn this achievement for the second straight year, KBB writes: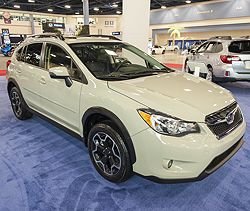 "While standard all-wheel drive remains a brand hallmark, excellent safety and long-term reliability are becoming well-known advantages . . . Increased appeal leads to increased car values, which helps drive down total ownership costs for new-car buyers and helps Subaru reach the top of this mountain again."
The Subaru Crosstrek was named as the winner in the Compact SUV Segment, and it's easy to see why. The Crosstrek (like most Subaru vehicles) comes standard with all-wheel drive. Other standard equipment includes a rearview camera, a touch-screen infotainment system, Bluetooth and voice recognition. It also features a large amount of cargo space for its size, sharp handling and "good" EPA-estimated fuel economy.
5-Year Cost to Own Award-Winning Vehicles
If you're looking for an affordably-priced new car that will also save you money down the road, here are a few models to consider. In fact, these cars have each won the 5-Year Cost to Own Award for 2017 in their respective segment.
Finally, to make it easier for buyers on a budget, only the most affordable vehicles from KBB's list are included below.
Best Subcompact Car: The Chevrolet Spark
5-Year Cost to Own: $28,216
In this competition, the Spark has taken the top prize in its category for the third time in four years. Priced at only $14,000 for the base model (including destination charges), this is the perfect starter car for new drivers. It also comes with plenty of tech features, including built-in Wi-Fi and Android Auto and Apple CarPlay compatibility. In addition, the Spark comes standard with a rearview camera, and several advanced safety features are available. These include forward-collision alert and lane-departure warning.
Best Sporty Compact Car: The Ford Fiesta ST
5-Year Cost to Own: $35,433
If you want a car that's as fun to drive as it is affordable to own, look no further than the 2017 Ford Fiesta ST. The base model, which starts at $22,000, comes with a 197-horsepower turbocharged 4-cylinder engine connected to a 6-speed transmission. The ST's sharply designed exterior and highly detailed cabin are nice reminders that you don't always have to sacrifice style to stay within your budget. Even a fully loaded version, complete with Recaro sport seats, a sunroof and Sync3 navigation will only run you around $25,600.
Best Compact Car: The Toyota Corolla
5-Year Cost to Own: $32,251
The Corolla is celebrating its 50th anniversary, and the 2017 version of this compact sedan is better than ever. In the new Corolla, the most attractive feature is called the Toyota Safety Sense-P. This is a complete safety system that includes adaptive cruise control, lane-departure alert with steering assist, and pedestrian detection. And, surprisingly, this system comes as standard equipment even on a $19,000 base model.
Best Subcompact SUV: The Honda HR-V
5-Year Cost to Own: $33,722
The 2017 HR-V boasts tons of interior space, thanks to Honda's new "Magic Seats" that can be reconfigured in several ways. Starting at around $20,500 for a base model, this crossover is packed with value. It gets "good" EPA-estimated gas mileage and comes with clever features such as LaneWatch, which uses a camera to show you what's on the right side of the car. The 2017 HR-V also offers a nice interior, a smooth ride and sharp handling.
Financing Assistance to Buy the Vehicle You Need
Whether you're in the market for a brand new car or a good, reliable used vehicle, Drivers Lane can help. Even if you have bad credit, we can make the car buying process easier, as well as save you time. How? We can match you with a dealer in your area that can work with unique credit situations. Also, you may even be able to purchase your vehicle with little or no money down.
Speaking of no money, that's exactly what our service costs. Our assistance is free and comes with no obligations, so you have nothing to lose. Go ahead and fill out our simple and secure auto loan request to get started today.