If you're a parent who is already on a tight budget, it is understandable that you would want the car that will be used by your child to be as affordable as possible.
Since it's their first automobile, you're probably not looking to invest a whole lot into something that will be useless in a couple years, especially if they have just started driving. This rationale may cause you to consider buying an inexpensive car with cash from a private seller. But, could those immediate savings cost you more in the long run?
How Cheap Is Too Cheap?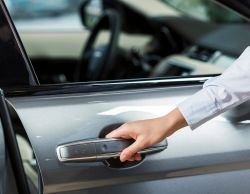 There are a few reasons why you might want to reconsider the "budget" approach for that next car purchase.
Safety.
A 2014 IIHS study showed that 48% of teens killed in auto accidents were driving vehicles that were at least 11 years old. So, when looking for a car to keep your teen safe, you want to be sure that it is equipped with the latest safety systems, such as airbags and electronic stability control.
Reliability.
A cheap, older model vehicle will save you money on the initial purchase, but when that car breaks down, you can count on it costing you more in time and money than it's worth.
Insurance rates.
Adding your son or daughter to your insurance will substantially increase your insurance premium. With that in mind, do you really want to add on to that expense by having them drive an older, less equipped car with (potentially) lower safety ratings?
Building a Financial Future
Buying a car isn't the only thing that requires good credit, and if your child is at least 18 years of age, it's good for them to start building a healthy credit profile now. An auto loan can help them do that, as well as provide them with a safe and reliable vehicle while doing so.
IIHS has a list of the best cars for teens under $20,000 and $10,000 on their website. And from that list, we picked five of the best choices that are around $11,000 or less.*
Ford Fusion (2010 or newer) - Starts at $7,400
Chevy Malibu (2010 or newer) - Starts at $8,200
Kia Optima (2011 or newer) - Starts at $10,200
Honda Accord (2012 or newer for sedans, 2013 or newer for coupes) - Starts at $10,900
Hyundai Sonata (2011 or newer) - Starts at $9,900
*Prices may vary based on vehicle condition, location, and demand.

Go for Safety
Instead of using that cash to buy an old clunker for your son or daughter, keep them safer by using it as a down payment towards a newer, safer vehicle. Drivers Lane has helped parents nationwide find local area car dealers that have helped them get cars for their sons or daughters when they've needed them most. Get started now by having them complete the fast, simple and secure online application.